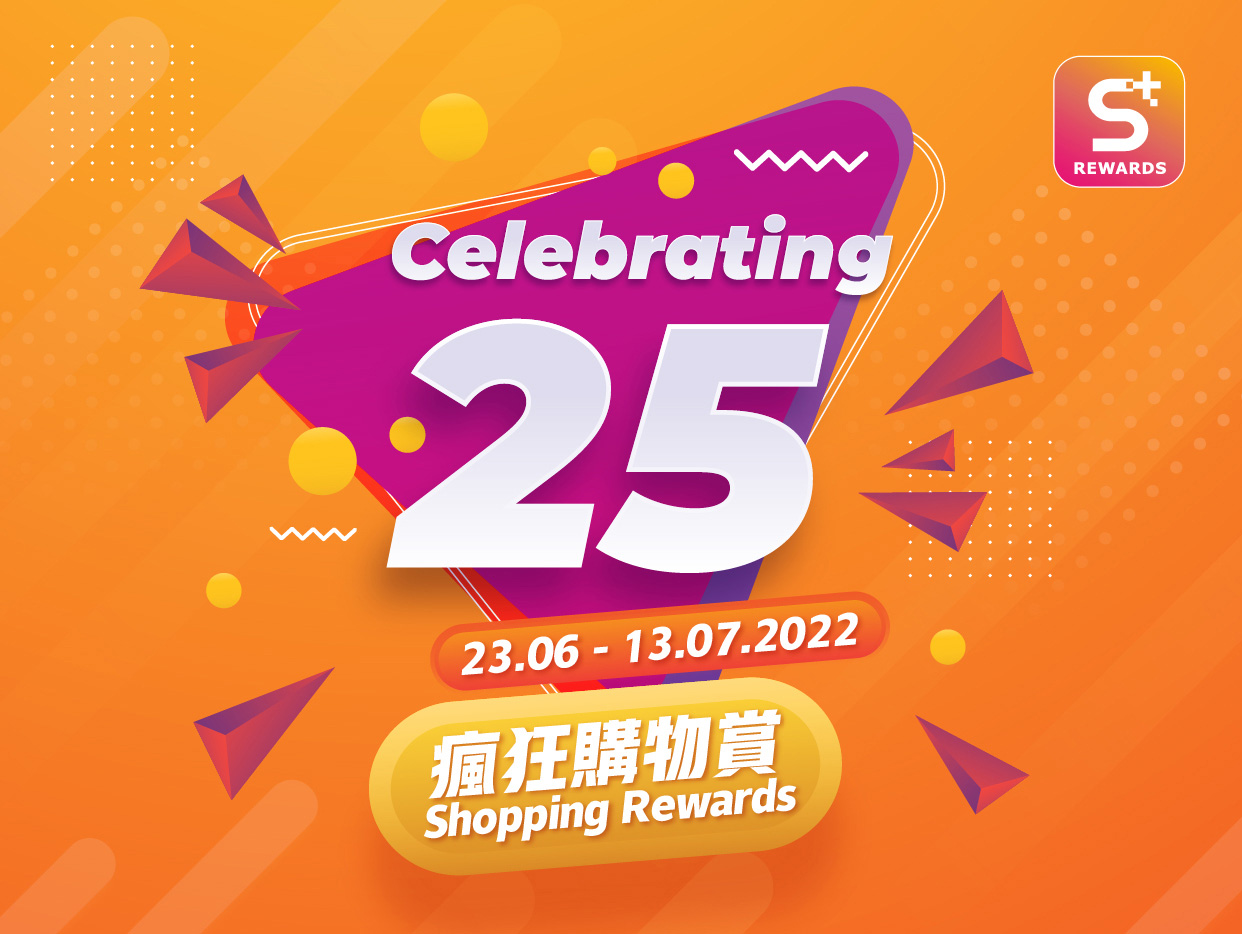 "Celebrating 25" Shopping Rewards
To celebrate the 25th anniversary of the establishment of the Hong Kong Special Administrative Region, tmtplaza, Olympian City and Citywalk are launching a wide selection of lifestyle products and appliances to reward the public! S⁺ REWARDS members¹ may redeem the "Supreme Pass" of designated product with 25 Points. Members may take home fabulous gifts with the "Supreme Pass" and upon spending designated amount²  via electronic payment at designated merchants³ in corresponding malls. Each member may accumulate a maximum of 3 eligible receipts⁴ from different merchants for each redemption, and each receipt must be over HK$100.  
Promotion Period: 23 June – 13 July, 2022  
Participating Malls

Gift Redemption Venue

Gift Redemption Time

tmtplaza

Concierge, 1/F,

tmtplaza

1pm – 9pm

Olympian City

Concierge, UG/F, Olympian City 2

12nn – 9pm

Citywalk

Concierge,

Citywalk

12nn – 9pm
¹This promotion is for S⁺ REWARDS member only. Each member may only redeem 1 "Supreme Pass" for each gift item. Gifts are available in limited quantities on a first-come-first-served basis while stock lasts.  
²Each gift item has corresponding designated spending amount requirement, please refer to Terms and Conditions for more details. 
³Merchants must be eligible for S⁺ REWARDS Points registration. For the list of applicable merchants and terms and conditions of Points registration, please visit S⁺ REWARDS website or mobile app.  
⁴Receipts of payment in cash vouchers or other methods, Gold Saving Club payment and purchase or value-adding of vouchers, cards or merchant pre-paid cards are not acceptable for this promotion. Each set of eligible sales receipts and corresponding electronic payment receipts can only be registered once and cannot be used in conjunction with other promotions or offers, except for S⁺ REWARDS Points registration and free parking offers. Member can accumulate and register up to a maximum of HK$10,000 in spending via electronic payment per day.  
More terms & conditions apply. The promotion content is subject to change without prior notice.
In case of disputes, Sino Malls reserve the right of final decision.